tmpl/home/consultants_message.dot
initiative
develops
potential
If you're passionate about healthcare and intellectually curious, you're in the right spot.
ECG consultants ask the hard questions to find answers and deliver customized solutions. As part of our team, you'll play an important role in transforming healthcare – and you won't do it alone. You'll team up with some of the best in the industry and gain exposure to top decision makers to make a real impact on people's lives.
Our Digital Brochure provides more details on what it's like to work here, how you can grow your career, the benefits we offer, and more.

Check it out here
Our Work in Action
Learn about some of our recent projects and how our solutions come to life to drive results.
Five Divisions
As a consultant, you'll belong to one of our divisions – and become an expert in that area.
Academic health system strategy
Education and research strategy and planning
Managed care contracting and reimbursement
Value-based contracting and delivery system development
Insurance services
Acute care performance improvement
Ambulatory and Service Line Performance Improvement
Consumer Engagement and Patient Access Services
Digital Health
IT Strategy
Revenue cycle optimization
Compensation services
Valuation services
Provider analytics
Enterprise strategy
Service line strategy
Physician alignment and network development
Ambulatory surgical care services
Facility and capital asset planning
Mergers, acquisitions, and partnerships
Provider workforce planning
Oncology, designated practice area
"You interview with people who are known as leading experts in the industry – and they figure out ways to integrate you into projects."
-Michael B., Senior Consultant
"One of my interviewers described a project, which was exactly what I wanted to do. That one person influenced me to join ECG – and she's my closest coworker today."
-Ilana P., Manager
"During my interview, it felt like we had known each other for a long time. I knew that if he reflected the people of ECG, that's where I wanted to be."
-Chris C., CEO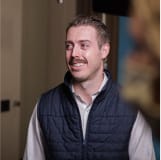 "My interest and passions are within healthcare. It started when I was a patient over 10 years ago – and I wanted to work on something that felt meaningful to me."
-Matt P., Manager
"I'm a member of the Diversity and Inclusion Work Group. I get to work on developing ways to encourage diverse candidates to apply, bring them into the firm, and help them be successful."
-Richard B., Senior Consultant
"I'm surrounded by really intellectually curious people. We challenge each other to push a little harder every day, so we can bring creative solutions to our clients."
-Michelle S., Associate Principal
Career Development
We believe in the power of continuous improvement. That's why we offer a wealth of resources to help you reach your goals. From New Consultant Retreats and Senior Leadership Retreats to monthly education events and mentorships, you'll have access to ongoing training and support throughout your career. You'll also have the chance to explore your interests – and become a thought leader with writing and speaking opportunities to share your knowledge.

Search Careers
Career Progression
At ECG, growth is a priority – and it's always happening. We provide constant feedback and new experiences to create a fulfilling journey. When it comes to career milestones, we promote based on merit and performance alone. This is a place where you can enjoy every moment as you carve your own path.
Onboarding Experience
Once a hiring decision is made, we'll carefully consider and plan every detail of your onboarding experience. Our new team members are trusted with critical work from day one, so be prepared to hit the ground running.
Personalized learning plan
Helps you map your career goals, and outlines the training strategy designed in partnership with your manager just for you.
Orientation agenda
Keeps you engaged with regular check-ins, meetings, and introductions scheduled during your first week and beyond.
Peer mentorship program
Provides you with a trusted guide to help with logistical, cultural, and resource-related items throughout your entire first year.
Network of resources
Ensures you get to know ECG and understand how to succeed in your role by introducing our training site, systems, and tools.
New Consultant Retreat
This three-day retreat brings new consultants together for an intensive onboarding experience focused on discovering and networking.
Featuring an engaging environment and an applied learning approach, the full agenda is designed to help you navigate a successful career at ECG. It all starts with a welcome reception and social event, followed by a variety of education sessions and breakout activities.
Here's a look at some of the key topics of discussion:
Introducing ECG History and Direction
Approaching Professional Development
Seeking and Applying Feedback
Building Your Reputation
Senior Leadership Retreat
Our senior leadership retreats provide exhilarating opportunities to connect with fellow leaders, cultivate relationships across the company, and build strong, cohesive teams. In addition, these retreats empower and equip leaders with the tools they need to succeed and thrive in their careers at ECG.

Our sessions dive into critical topics, such as:
Leadership development and training.
Firm and division strategy.
Industry knowledge and business development training.